Since our inception in 2006, Hyperion Construction has always striven to perform at the highest level of efficiency and to provide superior customer service. We pride ourselves on our company-wide philosophy of transparency and timeliness.
Hyperion Construction applies the same level of dedication and passion to every task at hand, regardless of the size of the endeavor. The staff at Hyperion Construction has a collective wealth of experience that allows us to complete most of our work in-house. We keep our workload to a manageable level so that we may always strive to exceed expectations, so you can count on us to take care of your needs while staying on budget and on schedule.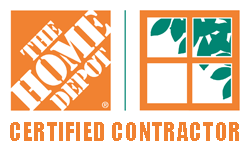 As of 2017,

Hyperion Construction

is a
Certified General Contractor for
Home Depot commercial projects.